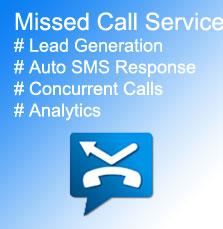 Missed Call Service and Solution
Missed Call Service and Solution
Missed call service where you can have a number (Mobile, Landline or toll free) which would be accessible from all India to generate the Leads. It can be used on your all the promotional activities like Bulk SMS, Media Ads or Social Media to generate the leads.
In this service there are no charges from customer end and auto response sms can be set against each missed call. SMS API is also comes with this service which would can be used to collect the data directly into the database and response can be sent accordingly to the request.
Missed call service is capable to take the concurrent calls so that leads cannot be missed out.
Features
It comes with a smart web panel where real time reports can be seen, auto response can be set, analytics are there to get idea from which state how many calls are there.
Uses:
1. OTP verification
2. Database update
3. Elections
4. Multiple Choice options
5. Banking/Finance Operations
6. Education
7. Health
8. Appointment
9. Offers & Coupons
and much more…
In nutshell, such service can be opted from a trusted vendor like Priority SMS who are providing Quality SMS services & 24×7 support since a decade in the Indian market and can help to discuss the best use of Missed call services as per your business needs.