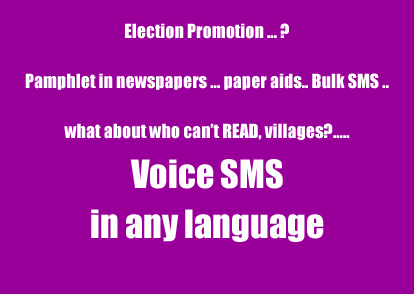 What is Voice SMS
Voice SMS Service Providers
Voice SMS is an outstanding service where you can send your own voice to thousand numbers on a single click like Bulk Text SMS. A panel is being provided to create groups of numbers upload your recording in .mp3 format and schedule as per your required time frame. Voice SMS blast can be done on a mobile number or a Landline number of India
A call would be send to all the numbers from sending number 140XXXX and as the end user receives the call, recording get played.
This is called Promotional Voice SMS which works from 9AM to 9PM and DND delivery is not there.
Successful calls would be deducted from Total Voice SMS credit purchased. There is a feature of Redial also, where you can decide to whom you want to send the voice sms again i.e. Failed Numbers, DND Numbers, Delivered Numbers or All numbers.
You can see the real time delivery reports also with the reason which call is successful, failed, invalid number, DND number or network error etc.
Voice SMS Credit Calculation
28 Second recording is called one voice sms credit and more than 28 but less than 58 second is called as 2 voice sms credits.
Voice SMS API also available which can be used to integrate the voice sms service with any software or application to send automatic or system generated calls. You can create multiple campaigns of voice sms blast at a time.
There is an option to receive user feedback also against a voice sms like press one 1 for Yes and press 2 for No etc. This response also can be seen in the reports, but first it has to be configured and last 5 seconds kept safe to record the end user response.
Priority SMS is a company who is the best voice sms service provider with a quality delivery and to reach each and every number in India, and having excellent feedback from customer about the superb service and support.
Where Voice SMS can be used:
Polling & Elections
Announcements
Wishes and Greetings
Reminders
OTP (One Time Password)
Results
Product Promotions
Large wakeup calls
Generate gatherings
Case Study of Voice SMS in elections
During election campaigns we have seen the traditional way to distribute the pamphlet in newspaper to increase the reach till each home, then after some time news paper full page Ads and since few years Bulk SMS is being used, but the challenge was still there to attract the village people who may be uneducated, the best way in this situation is Voice SMS which can be sent in the voice of their favorite leader and even in the language which they understand to create an excellent impact.
Transactional Voice SMS service is also available which works 24×7 with DND delivery, but mostly it is given to Educational institutions or to whom who are going to send to registered numbers only.
Summary:
The voice sms service is available in both the formats Promotional Voice SMS & Transactional Voice SMS as per the TRAI guidelines. It depends with end user that how it can be used. No doubt this is an outstanding tool to reach each people in his language. The only need is to select the best voice sms service provide like Priority SMS who is their round the clock to support you with having long list of happy customers.
– Voice SMS Blog By Manoj Chandna – Priority SMS